Welcome to our kitchen!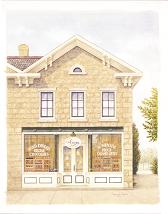 Most everything at Amy's is freshly artisan made. Since 1996, we have sincerely strived to raise the bar on quality, taste, purity and freshness in today's confectionery industry. Our kitchen in Historic Cedarburg, Wisconsin is open-concept, where our visitors can watch chocolatiers busy in the art of candy making. We wish you could inhale the heavenly aromas that fill the air here in our 19th century kitchen. Our award-winning caramel is made from scratch daily, using old-world copper kettles, made in small batches to ensure freshness & quality. Unlike most other's caramel, it doesn't contain hydrogenated or partially hydrogenated (usually palm kernel) oil, now also known as "trans fat", artificial colors, mono & diglycerides or shelf stabilizing preservatives and is made using only pure, all natural ingredients.

It also has only 5 basic ingredients like your grandmother used to make, not 15 like a manufactured or canned caramel. We invite you to taste the purity that you remembered as a child. Our caramel apples were just awarded "Best" by The Wall Street Journal - October, "Best of Milwaukee" Award by Milwaukee Magazine(™) as well as the coveted Blue Ribbon "Seal of Excellence" from our Wisconsin State Fair, to name a few :)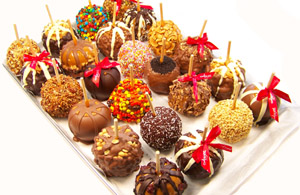 We use only velvety, world-class Belgian Chocolate from Brussels as our base chocolate in everything we make. It is a "Couverture" chocolate which means it has more than 31% cocoa butter. The nuts are also freshly roasted in small batches to obtain optimal freshness. Our almond bark and english toffee are recipients of the Blue Ribbon "Seal of Excellence" from the Wisconsin State Fair.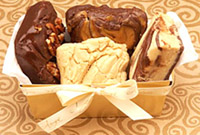 The Wisconsin State Fair also awarded our fudge with their Blue Ribbon. Smooth, creamy and less sweet, it is made the old fashioned way; cooked in copper kettles and hand paddled on a large marble slab. It is unique in that it is also made with our Belgian Chocolate. These same copper kettles also create crunchy, buttery homemade toffees, brittles and fairy food- again in small batches to ensure freshness. We also strive for exceptional customer service. We want our customers not only satisfied, but delighted. We are dedicated to providing you with the best experience possible. Thank you for clicking on to our web site- we hope we hear from you soon!


P.S. We truly care about our environment and have implemented several initiatives such as unbleached paper toweling, more expensive corn-starch based packaging peanuts that biodegrade. Recently, we have started looking at our carbon footprint and "food miles" of our raw ingredients. In our new building plans, we are adding natural light, wind power, solar heat and adsorption cooling into the design. We also care about our local community and donate to numerous 501(c) 3 non-profit organizations every month.