Shipping Policy & Rates


Please Be Aware of Our Standard Order Deadlines (With No Special Arrival Date Chosen)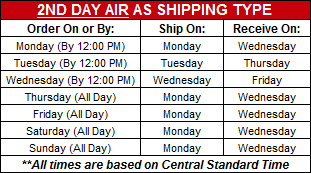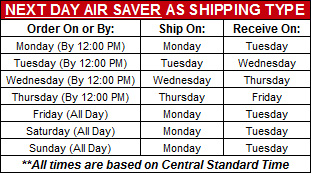 Shipping charges are based on weight and will show once you add an item to the shopping cart.
We reserve the right to substitute packaging and ancillary contents of equal or greater value.
Please note: Saturdays, Sundays and Holidays are not "ship-out" or count as "in-transit" days and arrivals on Sundays or Holidays are not offered. (Deliveries On Saturday Utilizing 2 Day Air or Next Day Air w/Saturday Delivery Is Available for Most Areas).
We cannot ship to P.O. Boxes.
You can always abort the order @ anytime. The shipping charges are based on your total shipping weight. We do not mark up the shipping charges and most are discounted rates.
We do not recommend or guarantee shipping to University Boxes. It is up to the discretion of the UPS driver as to whether or not it is safe to leave the package. This is why we recommend shipping to a specific person or direct address.
You can place your order now for a future delivery date (if desired) by entering it in the space provided on the billing info page.
Quantities over 400 apples or 50 lbs. of confections will ship out by the 2nd business day.
It is the discretion of UPS to leave a package at the doorstep.
Orders over 40 apples or utilizing UPS Next Day Air are subject to shipping cost verification.
At this time we are unable to process multiple shipping addresses under one online order. In order to ship to multiple locations, you will need to place separate orders, or if over 10 addresses, e-mail the excel spreadsheet listed below. Each order (address) will need to meet the minimum order requirement of $21.95. If you are sending to multiple recipients, you can create an account after you "add to cart", that will remember your Billing Info & save all of your shipping addresses. If you are shipping to over 10 addresses, E-Mail us the Microsoft Excel(r) file to the e-mail address located in this file Amy's Large Order Template. Contact our Corporate Gift Concierge if you have special needs through our contact form.
To ensure the freshest apples and confections possible, your order is made freshly just for you (not taken off of a shelf).
We cannot fully guarantee shipping to hospitals, universities, hotels or resorts. Please ensure the person will be there to accept the delivery & notify someone on duty of it's upcoming arrival.
Shipping is guaranteed in accordance with UPS terms and conditions www.ups.com.
Sorry, we cannot ship to Hawaii, Alaska, the Virgin Islands, Puerto Rico, Guam, Military (A.P.O & F.P.O), International or Canadian shipments at this time.
UPS Tracking info will be E-Mailed @ 9 PM on the day the package has shipped.
Click Here for Map Of High Temperatures For The United States